Dental Implant Placement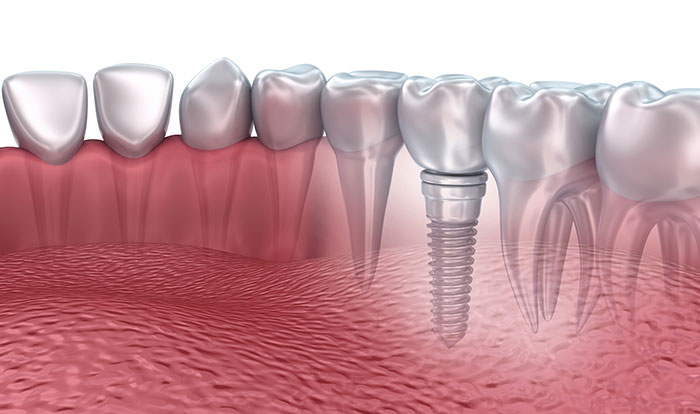 Are you considering getting dental implants? If you are, you may want more information how those implants become a part of your jaw. Dental implants are a perfect way to restore the look of your smile. The placement of dental implants is very important. Let Brush & Floss Dental Center give you more information on how dental implants are placed and how to best prepare for a dental implant procedure.


What are Dental Implants?

Dental implants were created for two reasons. First, dental implants were seen as a revolution in restorative dentistry. Dental implants allow us to recreate the look of your natural teeth. Because they are permanent, they can be used instead of bridges or dentures. Second, dental implants help to save your jawbone from bone loss or jaw and gum resorption . Because dental implants screw directly into the jawbone, your jaw thinks there are still teeth in your jaw so that it won't take bone away. Your jawbone continues to be strong. Blood continues to flow to your gums as well, which keeps them healthy. Learn More About Dentures To Implant


How Does the Dental Implant Procedure Work?

First, we need to have a look at your teeth and gums. We need to make sure they are healthy. This is the first step in the dental implant process because the implant procedure has a much smaller chance of being successful if you are fighting gum disease. If you have periodontal (or gum) disease, you will need to undergo treatment first, before we do implants.

If your teeth and gums are healthy, we need to look at the implant site. We will have to make sure that the site is ready for implants. If you need an implant for a single tooth, the process to do an implant is fairly easy. We will make an incision along the gumline. We use a screw, screwing it into your jaw permanently. The screw connects your tooth to the jawbone and runs through your gums. Then we will put a prosthetic tooth over the screw that matches your existing teeth.


What If I Have Multiple Teeth Missing?

If you have several teeth that are missing, we have to use a different process. Screws will be placed into your jawbone for your implant. If you need multiple teeth implants we will need to use more screws. Usually, we use one screw for each implanted tooth. However, there are procedures that allow us to give you multiple teeth with fewer screws, such as the All-on-4® procedure. With these new procedures, your healing time will be shorter than if we tried to do one screw for each missing tooth.

Do you have questions about dental implant procedure? Are you worried how an implant will change the look of your mouth? If you are concerned about dental implants, we can help! We can give you more information. Give Brush & Floss Dental Center a call at (203) 683-5253. We want to talk with you about the latest advances in restorative dentistry.