Dentures to Implant Bridge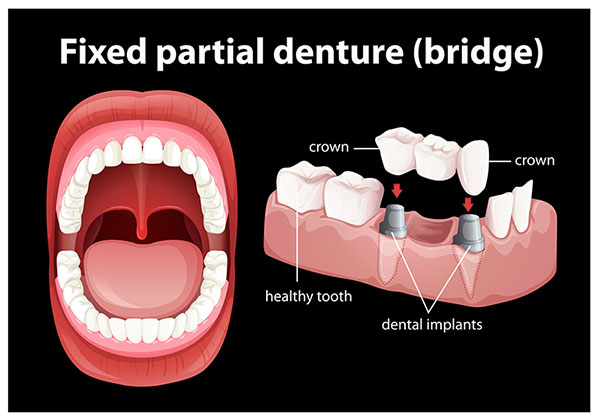 If you have had dentures for a considerable amount of time, you may be thrilled with them because they helped to restore your smile. However, you may be wondering if you have options because you haven't been perfectly happy with your dentures. Maybe you should think about getting implants. If you have thought about transitioning between dentures and implants, Brush & Floss Dental Center has some tips for you about how you can transition from dentures to implants.


Difference Between Dentures and Implants

There are several differences between dentures and implants. Dentures have been around for centuries and have been the go-to item for tooth replacement. They worked well for people missing a lot of top or bottom teeth in their jaw. Dentures are made of acrylic, plastic and porcelain. They are prosthetic devices that are fitted to each individual patient. They mold to the gumline of a patient with an adhesive so that the patient can eat and speak properly. Multiple tooth implants differ from dentures. They are also a prosthetic device. However, while dentures are placed on top of your gums, implants are screws that fit into your gums and are screwed into your jawbone to take the place of your natural teeth. Also, implants don't need adhesives, because they are held in place by screwing through your gums and into your jawbone.


The Problem With Dentures

Dentures are often the solution when people have excessive tooth decay or gum disease. While dentures are a saving grace for a lot of people, not everyone is happy with them. Some patients don't tolerate dentures well, because they think they are uncomfortable. Sometimes, dentures rub against their gums, and sores can develop. Also, there are patients who can't get their dentures to fit perfectly without slipping. When your dentures slip, you might begin to feel self-conscious. Sometimes dentures break or crack, especially when you drop them. Dentures need to be checked at every dental visit because they need to be maintained. Some people don't like dentures because of their association with old age.


Am I a Good Candidate?

If you are missing your teeth, you may want to consider a dental implant bridge instead of dentures. Many people think that implants look better than dentures, and that's why they want to try them. However, implants don't just look good, they can make you retain your mouth for longer. That's because implants help you retain bone mass in your jaw. When your jaw realizes that it is missing a tooth, it will begin to take the bone out of your jaw to put it someplace else. If you get implants, your jaw thinks you still have teeth there, which means you get to keep your jawbone intact.

Are you thinking about dental implants? If you need more information, why not give Brush & Floss Dental Center a call at (203) 683-5253. We would love to talk to you about why dental implant bridges are so great! Give us a call today!