Sinus Lift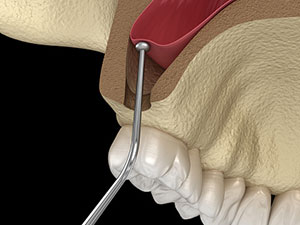 In some people, their sinuses are very close to their upper jawbone. You may also have loss of bone in your upper jaw that may be preventing you from having an implant procedure. If you want to have an implant procedure, give Brush & Floss Dental Center a chance to give you information on sinus lifts.


What Is A Sinus Lift?

Usually, when a patient needs to undergo a sinus lift, it can mean one of two things. You may not have enough bone in your upper jaw to support an implant. Your sinuses might also be too close to the jawbone for us to do implants. When we tell you that you need a sinus lift, it means that we move your sinus membrane upward - or lift it away from the jawbone. When we do a sinus lift, it is to place bone grafts and implants in the jawbone. Once the bone grafts have healed, we can immediately begin to make plans to do implants.


Why Are Sinus Lifts Needed?

People need sinus lifts for several different reasons. Some patients need to get restorative dental work done because they have been through an accident or an injury. They might also need to get implants due to tooth decay or gum disease. Many patients need to get implants in order to keep their jaws healthy and strong because missing teeth eventually lead to changes in the jawbone. This can eventually cause changes to your face as well. Implants work to strengthen healthy gum tissue and your jawbones because they screw directly into your jawbone, which makes your jaw think you have your natural teeth there.


How Is A Sinus Lift Done?

To prepare for the sinus lift procedure, we will need to take x-rays of your sinuses. We need to have a look at how your jaws and sinuses are shaped. Then, we have to decide where the bone that we need to put in your jaw will come from because there are several places we could take bone from inside your body. Usually, we use bone from other areas of your mouth, but we can take it from other places as well.

Once we know how we are going to do the sinus lift, we will make a small incision in the gum tissue by your upper molars. We will then move the gum tissue out of the way so we can drill a hole into your jawbone. We use a small opening to raise the lining of your sinuses. Once we raise your sinuses, we can then place bone grafts in the area that was taken up by the sinuses. We then stitch up the tissues and replace the gumline.

Usually, once we finish the procedure, we have to wait to place implants for at least four months to as many as nine months in order to make sure the bone grafts have healed. Do you have questions about sinus lifts and why they are so important for a dental implant procedure? We can help! Give Brush & Floss Dental Center a call at (203) 683-5253.