Same-Day Denture Repair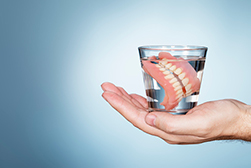 Dentures are the most non-invasive and affordable form of dental restoration treatment. Your dentures allow you to eat, speak, and smile and are an important part of your daily life.
Like your teeth, dentures are essential for your overall wellbeing, and, it is imperative that you take good care of them so that they can serve you well for years to come. However, since dentures are removable, accidents can often happen, which leaves these devices damaged.

At Brush & Floss Dental Center, our doctors can help you repair cracks and chips on your dentures and replace fallen teeth.


What to Do When Your Dentures Are Damaged

Even though you may take impeccable care of your dentures, there may come a time when they, say, slip from your hand and become damaged, or they may simply need to be relined or rebased.

Regardless of how your dentures got damaged, it is important that you follow the right steps to get them fixed. One of the worse things that you can do for your dentures is to attempt to fix them yourself. Dentures are precise and delicate restorative devices and if you try to repair them, you may do more harm than good and damage them irreparably. In this case, you will need to replace them and incur more costs.

It is important that if your dentures become damaged, you schedule an appointment at Brush & Floss Dental Center so that we can fix your dentures for you.


What Does Same-Day Denture Repair Involve?

At Brush & Floss Dental Center, we offer same-day denture repairs so that you do not have to be without your teeth for a single day. We will repair your dentures with the help of cutting-edge technology using special acrylics, adhesive and professional quality artificial teeth to make your dentures as good as new.
Our dental lab technicians are trained to repair, remodel and create custom impressions for your dentures and can repair your damaged prosthetics in as little as one day, depending on the extent of the damage.


What Kind of Damaged Dentures Can We Repair?

At Brush & Floss Dental Center, we can repair all sort of damage to your dentures. Whether you wear partial dentures or complete dentures, we can repair and adjust your dentures with the least amount of inconvenience for you.


Denture Cracks and Fissures

If a part of your denture has cracked or developed a fissure, you need to get it fixed as soon as possible before the crack spreads. Getting your damaged dentures fixed by us will help to repair the crack in a permanent way, it will also improve the function of the denture and they will feel more comfortable in your mouth.


Loose or Broken Artificial Teeth

If an artificial tooth has cracked or fallen off the denture, we can create a new high-quality tooth for you. The new tooth will not be generic but will be custom-fitted to suit only your smile.


Denture Relining

As you age, the structure of your jaw will change. This means that your dentures may become loose and not fit comfortably in your mouth. They may slip around when you eat or talk or rub against the inside of your cheeks causing sores.

At Brush & Floss Dental Center, we can reline your dentures with both soft and hard reline so that the surface of your denture is reshaped and you can wear it comfortably once more.

If your denture has become damaged or ill-fitting, there is no need to feel concerned. Call us today at (203) 683-5253 and we may be able to fix your dentures for you in as little as 24 hours.