Traditional Braces

Stratford, CT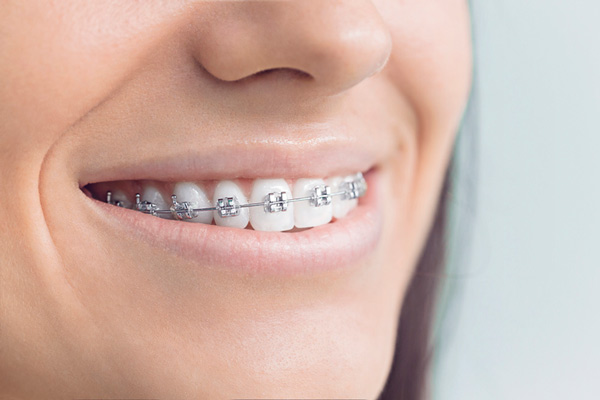 Braces can be used to treat crowded and crooked teeth, jaw issues, and a misaligned bite. They can get rid of problems associated with chewing, speaking, and keeping your teeth clean.
Traditional braces consist of metal brackets that are stuck to your teeth using an adhesive and linked with wires. They require tightening every 4-6 weeks so that consistent pressure can slowly straighten your teeth and rectify jaw misalignment.


What Are Traditional Braces Made Of?

Getting braces is a painless procedure, with the actual installation taking only a couple of hours. Here is an overview of its prime components:

Brackets

Once your teeth are clean and dry, brackets are applied onto them using a special glue. This may be uncomfortable, but it is not painful. These brackets help your teeth receive an even amount of pressure from the braces. They are linked with wires made of stainless steel, copper titanium, or nickel titanium.

Bands

Elastic bands, also known as ligatures or O-rings, are attached to the brackets once they are placed on your teeth. They exert pressure on your jaw and are a common practice in traditional braces treatments.

Spacers

They are made of metal rings or rubber bands, and are placed between your molars. They gradually move your jaw forward to create space at the back of your mouth. This is necessary when the back of your mouth is too tight for braces to fit properly.

Archwires

Archwires are used to link the brackets on your teeth. They are used to apply on your teeth to steer them into their proper place. Archwires are either made of stainless steel, copper titanium, or nickel titanium.

Buccal Tube

These are metal components that can be fixed to one of your molars. A buccal tube is used to hold in place the other parts of the braces at the back of your mouth. Your dentist can then tighten and loosen various parts of your braces.

Springs

Coil springs are often fixed on the archwire of your braces. Their job is to exert pressure between two teeth in order to either push them apart or press them together. An open coil spring is slid into the archwire and placed between two brackets to push teeth apart, whereas a closed coil spring works in the opposite manner.


Benefits of Traditional Braces

Traditional braces are the oldest form of braces. While several modern alternatives have now been invented, traditional braces still have an upper hand in many aspects.

| | |
| --- | --- |
| • | Treatment of tough cases: These braces are considered to be an effective solution for various serious orthodontic issues, such as overbites, crossbites, misalignment, and overcrowding. |
| • | Quick results: They treat tooth conditions quickly, usually between 1-3 years. |
| • | Affordable: Traditional braces are a cost-effective solution as they are less expensive than other alternatives. |
| • | Durable: Metal braces are robust and can tolerate daily chewing and brushing. |

Traditional braces are a quick way to get straighter teeth. They stay fixed until the treatment ends, which means that tooth care is constant. We also offer other orthodontic services including damon braces and invisalign. If you are suffering from misaligned teeth, schedule an appointment with us at Brush & Floss Dental Center by calling us at (203) 683-5253 today.