Tooth Socket Graft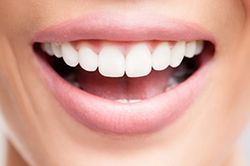 When we have to remove a tooth, we leave an empty socket in its place. Many people are ok with having an empty socket in place of a tooth. In fact, nearly all of us have at least one empty socket - because we have had our wisdom teeth removed. However, sometimes empty sockets create problems for your mouth. Depending on where the tooth is located, you may need to fill your socket with something as a replacement. That's because sometimes leaving an empty socket is not always the best decision you can make for your mouth. Instead of an empty space, a tooth socket graft may be better for your tooth. What is a tooth socket graft? Let us here at Brush & Floss Dental Center tell you why they are so important.


What Is A Tooth Socket Graft?

A tooth socket graft replaces the bone or tissue that has been lost due to decay, accident or injury. If we do a tooth socket graft immediately after the loss of a tooth, your teeth will have very little time to move around and cause trouble. Usually, when we are going to do a tooth socket graft, we extract the tooth. Then, we make sure that the socket is completely clean and free of infection. We can then place a bone graft. When we place the bone graft, it is soft, but over time, the bone graft hardens as it heals. We help to heal your bone graft by placing a protective membrane over it, so that the graft isn't disturbed. We also suture the area closed as well. Usually, socket grafts take a few weeks to a few months to heal. After a few months, we would be able to place your new implant where the tooth socket graft was.


Why Does an Empty Space Need Filling?

As you are growing, you can have spaces in your mouth. Your mouth needs to be big to allow teeth to grow and change, because your baby teeth are gradually being replaced by permanent teeth. As people age, however, they will have no new teeth coming in to replace a tooth that they have lost. So, if you get a tooth removed, the socket is empty. If it is a wisdom tooth, you may not need to worry about it. Researchers believe that wisdom teeth are no longer needed, so the socket is left alone.

If you lose other teeth through an accident or an injury, as well as through gum disease or tooth decay, you will need to replace them so that you don't have problems with the socket. One of the ways your teeth may compensate for the missing tooth is by moving other teeth into its place, which can cause problems with your bite. Your body might also choose to take bone away from the empty socket as if it is no longer needed. That may reduce the amount of bone and tissue in the socket, which can lead to problems with your gums and jaw.

Have you suffered a tooth loss? We can help. Give Brush & Floss Dental Center a call at (203) 683-5253.