Dental Exams

Stratford, CT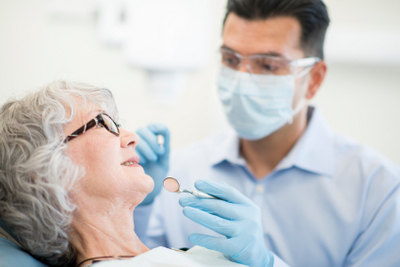 A dental exam is a routine checkup for your gums and teeth and is an important part of general dentistry. They are essential to maintain good oral health and should be done every six months. Regular dental exams can spot signs of oral damage and decay before they become painful problems that require extensive dental procedures to correct.

At Brush & Floss Dental Center, our team of dentists, are specially trained to meticulously inspect and identify any tooth damage and decay along with signs of gum disease. Here, we will also provide oral cancer screenings and dental cleanings to help you maintain good dental health.


What Happens During a Dental Exam?

A dental exam has three main aspects: x-rays, examination, and cleaning.


X-Rays

You will not have to get an x-ray every time you have a dental exam. A full mouth scan is only required every few years to determine your general oral health and check for issues like bone loss. However, an x-ray of a certain area, also known as a bite x-ray, is used more often to check the extent of a cavity or tooth damage.
In most cases, you will be asked to bite on a small piece of plastic as the x-ray camera takes the picture.


Examination

During the examination, our doctors will check your dental x-ray for any problems and examine each of your teeth and gums. They will look for signs of tooth damage, like tiny holes known as cavities, where bacteria can grow and cause tooth decay. Cavities need to be addressed, and our doctors may recommend filling them immediately in a relatively painless procedure. They will also check for signs of gum disease, such as gingivitis.

Our dentists at Brush & Floss Dental Center will also check your mouth for signs of oral cancer, such as lumps, sores, patches, or bleeding. This will also include feeling the inside the lips, around the tongue, below the jaw, and the floor and roof of the mouth.


Cleaning

A cleaning during a dental exam is more than just your average brushing and flossing. It will be a thorough cleaning using a special electronic toothbrush on your teeth and gums to clear out all of the plaque and residue. Small metal tools may be used to scrape stubborn deposits of tartar that contain bacteria that can erode teeth if left untreated. A fluoride treatment may follow this cleaning.


Risks of a Dental Exam

There are relatively zero risks of a dental exam. Some patients may feel discomfort during the cleaning, but dental exams are generally painless unless there is a deep cavity or another serious issue.

Dental x-rays are also generally safe for most people as the radiation is very low, but they are not recommended for women that are pregnant.

If you have a heart problem or immune system disorder or are recovering from recent surgery, make sure to inform our doctors.


Schedule a Dental Exam Today

Schedule an appointment for a dental exam with us at Brush & Floss Dental Center today by calling (203) 683-5253 so you can make sure your dental health is at its best.