Dental Exams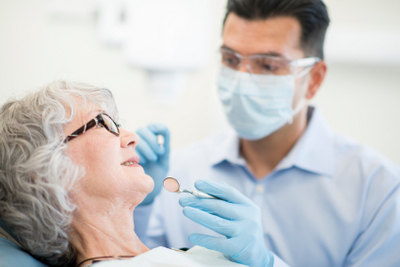 The American Dental Association recommends that people should visit the dentist at least every six months. A dental exam is a dental checkup of your teeth and gums, which help prevent cavities and gum disease and/or catch them in their early stages.

At Brush & Floss Dental Center, our doctors offers dental exams for people of all ages.


What Happens During a Dental Exam

A dental exam typically involves a thorough examination of the mouth, including x-rays, as well as professional cleaning. We will also check your bite and look for signs or precancerous signs of oral cancer in high-risk patients.

Before starting a dental exam, we will take into account your medical and dental history and determine you have any specific conditions or the medications you take are affecting your oral health.


X-ray Exam

During an x-ray exam, our doctors will place a lead apron over your chest. We may also give you additional covering to protect the thyroid glands in the neck region. This covering will protect the rest of your body from x-ray radiation. We will then place a small piece of plastic in your mouth and ask you to bite down on it. A scanner will be placed outside your mouth and will take images of your mouth. Depending on the condition of your mouth, we may take x-rays of various places in your mouth.

At Brush & Floss Dental Center, we use various types of x-rays. One type of x-ray is called the full series x-ray and it is used to diagnose your overall oral health. Most commonly, though, we use bitewing x-rays that are effective in detecting hidden cavities and dental issues.

X-rays are the most effective tools in detecting cavities, fractures, and oral issues that cannot be seen with the naked eye. Decay between teeth or a fracture below the gumline may be invisible without an x-ray.

If we detect cavities or a buildup of plaque, we will then discuss your treatment options.

In addition, we will also look for signs of gum disease and other health issues in your mouth, including oral cancer.


When Do I Need to Have My Dental Exams

The American Dental Association recommends that a child should have their first dental exam at six months old when their first tooth erupts and no later than 1 year.

After that, you will need to come in every six months to ensure your and your child's dental health. However, if you have active gum disease, which is characterized by bleeding, swollen, and inflamed gums and a bad odor, we may call you more frequently for periodontal maintenance. These appointments may be scheduled every two to four months, depending on the extent and severity of the disease.


Schedule an Appointment With Us

At Brush & Floss Dental Center, our doctors and Our doctors strongly suggest that you do not skip your routine dental exams with us. Due to these exams, we can treat oral issues when they are in their initial stage and prevent you from spending money on very expensive and more invasive restorative treatments in the future.

If you are concerned about your teeth, call us today at (203) 683-5253 to schedule a dental exam appointment with us.